Government contractors and subcontractors know they're required by the OFCCP to prepare Affirmative Action Plans (AAPs) every year. But these plans are just one piece of the compliance puzzle. Here, we identify four keys to expanding beyond AAP requirements and empowering your organization to unlock greater value from your workforce compliance program.
By taking a deeper look into the essential components of a successful and complete Affirmative Action Program, you can decrease your risk of non-compliance and transform your AAP into a strategic asset.
Reviewing an Affirmative Action Program and the Law
If you're a service and supply contractor with 50 or more employees and have a contract or subcontract valued at $50,000 or more, you're subject to specific federal requirements designed to prevent employment discrimination:
According to these regulations, a contractor must prepare a written Affirmative Action Plan (AAP) that outlines the organization's structure, policies, practices, and programs to comply with these nondiscrimination laws and regulations, and provides statistical reports on the diversity of your workforce.
1. AAP Planning Process and Technology
When preparing your AAP, don't underestimate the time it takes to prepare and collect accurate data before the prior year plan's expiration date. You don't want to add additional stress to an already complex process by being crunched for time.
It's important to note that, while your Affirmative Action Plan is an annual event, your Affirmative Action Program should be a continuous effort. This need for a year-round focus on affirmative action is driven chiefly by the need for accurate workforce data.
Both development of AAPs and reporting against goals articulated in your AAPs demand complete and accurate employee data—such as applicant dispositioning and movement within your organization. In order to maintain workforce data required for full OFCCP compliance, your Affirmative Action Program must encompass a deliberate approach to tracking and recording. Not only does this ensure your organization will be prepared to respond in a timely manner to an OFCCP audit, it obviously improves your chances for a positive outcome.
Tracking and maintaining accurate employee data can be cumbersome without a software solution designed specifically to support your workforce compliance team, especially for contractors with multiple locations. Even small and mid-sized contractors can benefit from investing in Affirmative Action planning software—through time savings for your compliance team and significant mitigation of risk.
Also on the blog: '6 Ways to Advance Your AAP Beyond Compliance'
2. Good Faith Efforts
Once your affirmative action plan is completed, the next step is to develop action plans for your Good Faith Efforts (GFEs) and include them within your written narrative. A Good Faith Effort is any activity designed to help achieve the goals in your AAP.
As part of your Affirmative Action Program, you must review and communicate the details of your outreach efforts you've identified. This may include:
Reviewing workforce compliance policies and processes
Checking purchase orders/contracts
Ensuring EEO taglines are placed appropriately, such as on purchase orders, career portals, and job advertisements
Displaying required posters such as "EEO is the Law" and "FMLA" around your office
Distributing your Affirmative Action Plan to the stakeholders responsible for contributing toward your diversity goals
It's equally important for your compliance team to thoroughly document and measure your Good Faith Efforts. Here again, if your company is audited, the OFCCP will request this documentation. In fact, recordkeeping violations are among the most common issues cited during audits.
Clearly, proactively and diligently keeping records of your Good Faith Efforts is critical to maintaining compliance. To manage all the documentation associated with GFEs, many companies turn to document management and GFE software solutions.
For more on this subject, you can also read our blog: 'Good Faith Efforts: Where Are the Results?'
3. Employee Awareness Training
Compliance and awareness training on affirmative action is a requirement, but unfortunately, many companies take a check-the-box approach. Whether you conduct live or online training sessions, compliance training can—and should—be much more.
When taken seriously, affirmative action training can instill in your leaders, recruiters, hiring managers, and employees a deeper understanding of compliance guidelines. It can also empower your workforce with a greater awareness of their colleagues' perspectives and experiences.
When preparing your affirmative action and compliance training plan, consider how you'll record employee progress and completion of required courses. Affirmity has built an approach to OFCCP and EEOC training that helps companies align HR practices with federal regulations.
Related reading: 'Avoiding Unconscious Bias: 6 Insights That Will Help You Take Action Immediately'
4. Adverse Impact Analysis
Whether it's recordkeeping, data collection, reporting, analysis, compliance policies, GFEs, or any other element of your Affirmative Action Program, the aim is to reduce your organization's risk of noncompliance. Another key element is proactively conducting an adverse impact analysis. To identify potential issues, prepare an impact ratio analysis for both hiring decisions, as well as promotions and terminations.
If your proactive analysis uncovers adverse impact, your team must then review the individual components of your talent processes, per regulatory requirement. Once again, year-round monitoring of your progress is important. So is routine analysis of your data.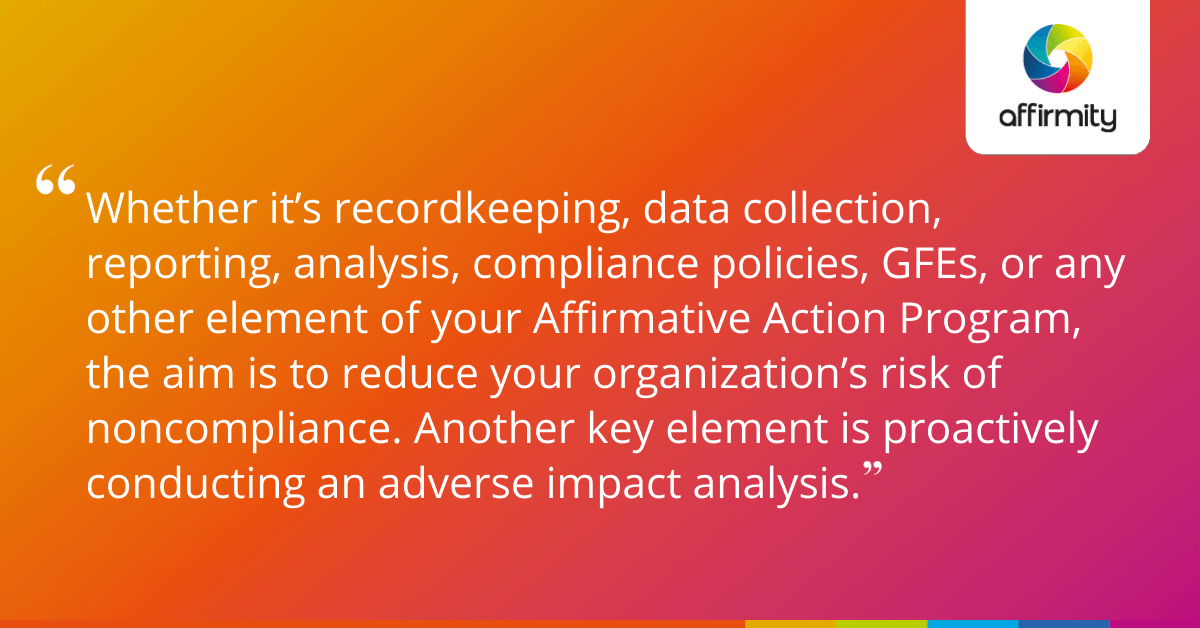 We recommend you conduct these adverse impact analyses quarterly or semiannually. When you find an issue, develop and implement additional Good Faith Efforts or conduct additional training to mitigate risk in case of an audit.
Moving From Compliance to Competitive Advantage
By investing in a robust approach to each of these four elements of your Affirmative Action Program, your company can ensure compliance and mitigate the risk that comes with an OFCCP audit.
Equally important, these investments can move your organization beyond mere compliance—developing a dynamic culture, energizing your employees, and seizing the myriad competitive benefits of a diverse and inclusive workplace.
Is your compliance team audit ready? Read our ebook, '9 Tools & Strategies to Take Your AA Program to the Next Level', or contact our team today to discuss optimizing your Affirmative Action Program.
This blog post was originally published in November 2018 and has been updated with new information.